Dana Zurzolo is an artist and educator working in Ventura County, just north of Los Angeles. As a self-taught artist, she began creating patterns for embroidery in her youth, moving on to large graphic posters and pictorial quilts in college, to eventually designing commercial banners and flags after graduation. After traversing many professional jobs and elds, she returned to school for digital imaging and graphic design. Much of her art is most deeply inlfuenced by personal experience and observation combined with her early love for patter-making, and magic markers.
Zurzolo has taught art and design at Pepperdine University in Malibu, CA for sixteen years. She has an Masters of Fine Arts from Plymouth University in the U.K.; an M.A. in Learning Technology from Pepperdine University, and a B.A. in Social Thought and Political Economy with high honors from University of Massachusetts/Amherst.
The old days…(pre-digital)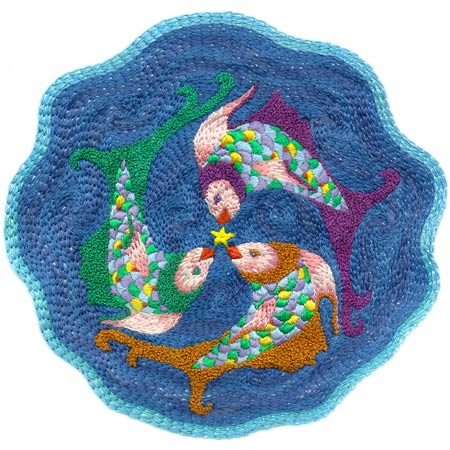 Making Repeat Patterns:

Scan original paintings, photo or drawing.
Use Photoshop>Filters>Other>Offset – create a seamless design using clone tool/healing brush
Use Illustrator to isolate and repeat a design using more sophisticated tools Create Pattern>Step repeat with hex, grid, or half offsets…
Recolor, resize, repeat, and test it… distort, use more filters saturate, desaturate, etc..


New Work: